Direct Embroidery
Images is a leader in the Southwest in providing embroidery for promotional products, sporting goods, and rental uniform companies. Golf shirts, jackets, bags, and aprons embroidered with low or no minimums give the dealer more flexibility in providing the right quantity fit for their customer needs. Our in-house digitizing and over 40 embroidery heads in our production facility insures quality control and a timely delivery.
Production time is ~10-15 working days from receipt of orders, depending upon the digitizing necesarry to produce a quality piece. Repeat orders run 7-10 days depending on your order size. As with all products we will ship directly to your customer under your cover.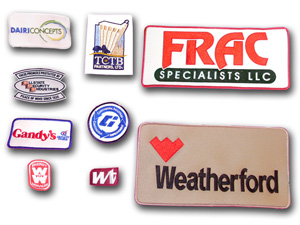 Embroidered Emblems
Images also provides custom embroidered emblems for the trade standard lettering block and script. Our in-house digitzing enables us to produce beautiful custom graphic designs from 1-7 colors, at affordable prices and with a fast turnaround. Our use of polyester thread insures bright colors that will withstand industrial processing.